When you can't speak...

Let your medical alert bracelet speak for you. Wear an ID on your wrist because that's where paramedics look first.
Who should wear a medical alert bracelet?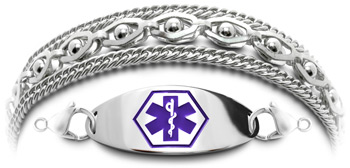 Anyone with these issues must consider wearing a medical bracelet.
• Alzheimer's, dementia, autism, impaired memory, special needs
• Allergies: antibiotics, contrast dye, morphine, insect stings, medications, latex, foods, peanuts, shellfish
• Anemia: sickle cell, ITP 
• Autoimmune Diseases: Addison's, Celiac, Crohn's, Lupus, multiple sclerosis, myasthenia gravis, narcolepsy
• Brain Injuries: TBI, CTE 
• Breathing disorders: Asthma, COPD, Emphysema
• Breast Cancer: Lymphedema 
• Blood thinners: Coumadin, Warfarin, Xarelto, Eliquis, Plavix
• Blood disorders: leukemia, hemolytic anemia
• Clotting Disorders: Von Willebrand's, Factor 5 Leiden, hemophilia
• Diabetes 1 and 2
• Difficult Intubation/airway
• Bariatric Surgery: gastric bypass, lap band, endoscopic sleeve gastroplasty, intragastric balloon
• Heart Problems: pacemaker, stent, AFIB, angina, mitral valve prolapse, arrhythmia, stroke risk, artificial valves, HBP, hypertension, ventricular tachycardia
• Hypothyroidism
• Seizure Disorders: Epilepsy 
• Kidney Diseases: kidney failure, dialysis 
• Rare diseases
• Hearing and sight impaired
• Mental Disabilities: aphasia, Down's Syndrome, schizophrenia, speech disorder, PTSD
• No MRI: implanted magnetic metal, plates, meshes, pumps, pacemakers, stimulators
• Prescription and multiple medicines: chemo, anti-rejection
• Transplants: kidney, pancreas, liver, heart, lung and intestine
Always consult your doctor for what's best on your medical bracelet. See Beginners Guide
How long does it take to get an ID bracelet?
Assuming we can reconfirm your skintight wrist size and get correct medical information, it takes 3 days to custom size and engrave the ID tag. In general, we allow 2 weeks since these are all custom handmade bracelets. However, most orders, even when we can't contact you immediately, will go out much sooner. Inquire about rush orders.
Why wear a medical alert bracelet?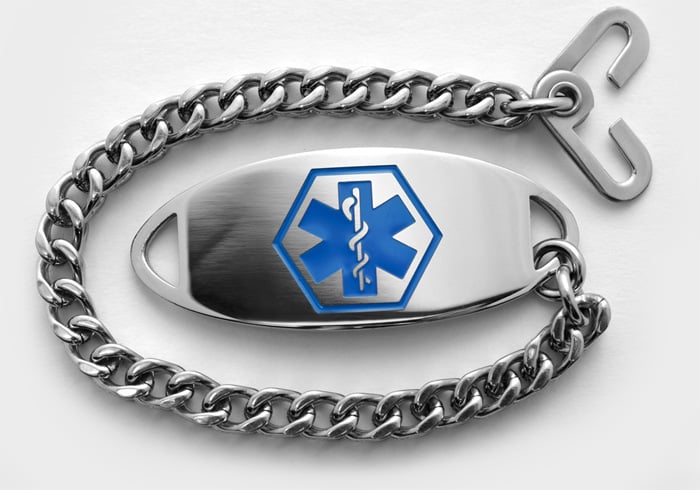 • A medical bracelet could save your life
• Medical bracelets provide the fastest way to communicate your medical conditions
• Reduce mistakes with paramedics and emergency doctors
• It speaks for you when you can't speak
• In an emergency, paramedics are trained to look first for an ID tag on your wrist
• Wear a medical bracelet because it's better to be safe than sorry
• It doesn't have to be ugly. See see the many ways to stay safe and fashionable.
Should I always wear a medical alert bracelet?
Sleeping, driving, shopping, swimming and showering: you never know when an emergency may happen.  So it's always best to be prepared. And, most major medical organizations recommend wearing a medical ID at all times. So buy one here.
What to engrave? 
Consider carefully the correct information on your medical ID tag because it's the best way to communicate your conditions when you can't speak. See Engraving Help
Choosing the right ID Tag. Different medical ID tag styles allow varying amounts of medical information. Some designs allow engraving on one side, while 2-sided ID tags allow for more information on front and back. See ID Tag Styles
Speak to your doctor for what medical information must be included. It's critical to get the right information for fast moving emergencies because it's your life.
Call 847-638-2223 and someone will guide you on the best solutions. See Beginners Guide. See Medical Abbreviations
How to size a medical bracelet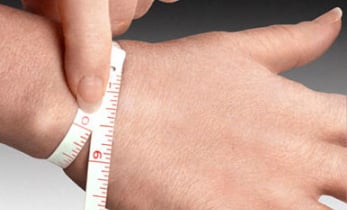 Measure skintight
between wrist bone and hand. Use only soft tape measures (no metal). DO NOT Add Extra Space - WE ADD Space for comfort. Measure carefully! Our medical bracelets are custom sized to you. See what to put on a medical bracelet for
engraving
, and how to
abbreviate
medical terms. See more
Sizing Tips
Proper fit depends on your exact skintight wrist size. All bracelets are checked on a professional mandrel—a scientifically accurate sizing system. DO NOT use an old bracelet as your guide because the length of a bracelet is determined by the material thickness of the beads and chain. Thick materials produce longer bracelets; thinner materials make it shorter.
How to Choose the Best Medical ID for You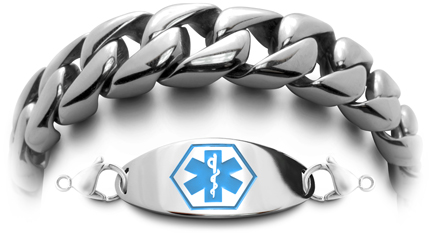 Choose custom sizing for comfort because you'll be wearing this 24/7. No matter which style you choose, all our bracelets fit correctly.
Choosing an ugly bracelet that "looks medical" could be a disaster because buying a boring bracelet that you'll never wear is a waste of money, and is dangerous!
Choose from many styles: Selecting the right style of medical bracelet for the right occasion makes sense. Nothing is more frustrating when limited to a handful of medical bracelet styles—especially for formal affairs. See fashionable styles
Choose the right material: Stainless steel WaterWear Bracelets® for all-around wear in water and more rugged conditions. Gold and silver WaterWear Bracelets® for moderate conditions where corrosive chemicals are not present. And, fashion beaded bracelets for when special high fashion styling is desired—and where WaterWear Bracelets® are not required.
Choose memory impaired or Autism when your loved ones require our exclusive "unremovable" ALZ or AUT Design Clasp to prevent unwanted removal that requires 2-hands to open. See ALZ or Autism
Choose limited budget bracelets when cost is the overriding factor due to fixed income, but you still want high quality. See Budget Sets
Choose the fastest way to keep you safe when every second counts. Paramedics look to your wrists first. Second they look around your neck. Third they look to your ankles.
Choose proven technologies: Putting emergency information on a smart phone only makes good sense. However, if the phone is lost or broken in an accident, you'll need a good backup with a low tech ID bracelet. Having a GPS electronic bracelet or pendant, if you can afford the monthly payments, is also a good idea assuming it's working and within cell range. See Beginners
Unproven technology: Not all technology is good for medical emergencies. USB bracelets are not reliable in the field where paramedics don't have time to load your data into a computer and wait for information. The same goes for QR bracelets that require special scanners and a reliable internet connection, and the time to upload your data. While a few areas of the country have this capability, 98% of America does not! Make sure you know this is working in your area.