A beautiful way                        to save your life™
Custom sized medical ID bracelets designed & handcrafted in the USA
Show the fashion side. Hide the medical side.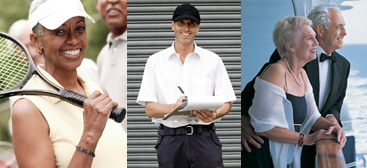 Designer med ID bracelets custom sized & engraved for all medical conditions.
Custom sized medical ID WaterWear Bracelets® for 24/7 wear, now come in stylish stainless steel and elegant precious metals. For high fashion luxury see our beaded bracelets. Designer styles starting at $29. Made in the USA. Medical grade stainless steel tags sold separately in 10 colors and gold. All custom engraved.
"I endorse these beautiful bracelets to encourage
wearing
a medical ID".
Barry Goldberg MD Highland Park, IL
Bracelet Buddy® Only $9.95
Medical ID bracelet goes on and off with ease

Select one organization below and we'll donate $2 from our own pocket for every bracelet you buy.
Why Heart Disease demands a Medical ID in an emergency
As a heart patient with so many variables in conditions, medications and implanted electronic devices, there is a lot that a first responder should know about you to do the right thing especially when you're unconscious. See what to say on your tags
Why wear a medical identification bracelet?
It's all about saving your life.  And it starts by having the right information during a medical emergency.  In the first critical seconds, EMT's and medical professionals need to make a quick assessment -- which helps them give you faster, more effective treatment.  They don't have time to call emergency numbers or subscription services. And they also won't waste time going through your purse or wallet with the legal hassles this may cause.  All paramedics are trained to look for ANY medical information that is found: 1. Around your wrists, 2. Around your neck, 3. Around your ankles.  Don't worry, they'll find it because they've seen all manner of medical bracelet styles for the past 25 years.  It's what all paramedics and emergency responders tell us.  A medical ID bracelet not only tells responders of your medical health conditions, it can also tell them about the medications you are taking or shouldn't be given.  Your medical alert bracelet tells EMT's, nurses and doctors about critical medical issues -- making every second count.  So if you're at risk, it's time to create your own personalized emergency ID medical bracelet that's not only life saving, but is also a beautiful addition to your fashion jewelry.  It also avoids the embarrasing stigma of wearing something that looks like a typical medical bracelet that's been a major barrier for people that refuse to wear a medical ID. So stay stylish and stay safe.
A Diabetes Lifestyle Expert You Should Know
At a Diabetes Symposium, Toby Smithson spoke with us about the importance of diabetics wearing a medical ID bracelet. After the event, she asked to do a video on why wearing medical ID bracelets are so important for diabetics. Because Toby is a certified Diabetes Educator, we'd like you to hear what she has to say at http://www.diabeteseveryday.com/wearing-your-medical-id. After viewing this video we hope you will look around her website because the information is so timely and helpful to the whole Diabetes Community.
Toby founded DiabetesEveryDay.com to provide credible guidance and constant support every day to people with diabetes, and few could possibly be more qualified. She is a nationally recognized Registered Dietitian (a National Spokesperson for the Academy of Nutrition and Dietetics), and is a Certified Diabetes Educator. But most importantly, Toby has more than 40 years experience managing her own diabetes every day with "textbook" success making her a "diabetes lifestyle expert".
Custom engraved emergency information for any medical condition, allergy, and medications
We specialize in medical alert bracelets for... adrenal insufficiency, alzheimers, angina, arrhythmia, asthma, atrial fibrillation, autism, barlow's syndrome, bee sting allergy, bipolar disorder, blood thinner, CABG, CAD, cancer, breast cancer, cephalosporins allergy, CHF, CHD, cochlear implant, contrast dye allergy, COPD, coumadin, coronary artery bypass, defibrillator implant, depression, diabetes, dialysis, DVT, epilepsy, factor 5 blood disorder, factor v leiden, food allergy, gastric bypass, gastric lapband, heart condition, heart patient, heart stents, heart transplant, hearing impaired, hemophilia, hypertension, hypothyroidism, insulin dependent, kidney disease, kidney transplant, lap band, leukemia, liver transplant, lung transplant, lupus, lymphedema, lymphoma, manic depressive, mitral valve prolapse, memory impaired, morphine allergy, multiple meds, MVP, no blind ng tube, no morphine, no mri, opioid allergy, organ transplant, pacemaker, PAD, pancreas transplant, peanut allergy, penicillin allergy, pregnant, pulmonary embolism, RNY gastric bypass, schizophrenia, seizure disorder, sight impaired, stroke, stent, sulfa allergy, thrombophilia, warfarin, von Willebrand's, Xarelto, and other serious issues that require medic bracelets.


Why a Medical ID keeps an Alzheimer's patient safe
An Alzheimer's patient is at the mercy of their environment because they're often confused, lost, hurt or all of these. First responders will have difficulty communicating with them even when they're conscious. That puts a significant burden on having all of the key information on a medical ID bracelet. When things go wrong...
The interchangeable medical alert bracelet system.
Being able to use one medical ID tag with many different bracelet designs is a simple concept that is available from many different sources. And yet, for all the choices, too many "designer fashion bracelets" look as ordinary as the simple drugstore bracelets they would hope to replace. So what is the difference at Medical ID Fashions? For one thing you have an accomplished artist and designer in Abbe Sennett. She brings a powerful track record for creating inspired artistic creations from her professional fine arts and commercial illustration background. Add to that her jewelry business experience that was the genesis for starting Medical ID Fashions Co., and you now have a real choice for a truly creative medical ID bracelet. This is a medical alert bracelet that's so stylish and versatile, you may want to wear it just because it makes you feel so beautiful.
Thank you for visiting Medical ID Fashions.
Providing you the most fashionable life-saving medical bracelets is what drives the designer and creator: Abbe Sennett. Abbe personally thanks you for taking the time to consider her bracelets and hopes that you have found something that fits your personal lifestyle. If you have any suggestions for improving our medical ID bracelets and this website, please write "Abbe" with your suggestions. Thank you.