29.1 million Americans have diabetes and every 23 seconds someone new is diagnosed. 
American Diabetes Association says:
"No matter where you go, wear a medical ID bracelet" These beautiful bracelets are recommended by the ADA.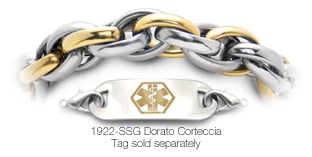 Buy many styles to help the ADA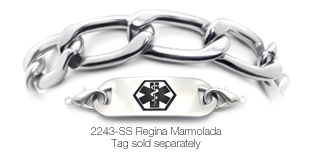 Elegant diabetes designer stainless
The ultimate in exotic stainless steel gives you incredible fashions to rival fancy tennis bracelets at Designer Stainless.
Since 2013 Medical ID Fashions have been a proud supporter of the American Diabetes Association, the nation's largest voluntary organization dedicated to fighting diabetes.
A diabetes medical ID, or diabetes bracelet, is important for every person with diabetes in order to be able to quickly communicate medical information in an emergency. With Medical ID Fashions you can shop from hundreds of bracelet styles and support a great cause at the same time!

To learn more about the American Diabetes Association, visit diabetes.org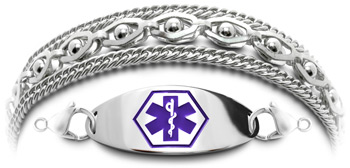 Buy from many styles to help the ADA

All diabetes bracelets are handmade in the USA and custom sized for each customer.
Exotic Diabetes gold & silver chains
Exclusive WaterWear Bracelets® in an incredible variety in 
Gold/SIlver
 for rich textures and finishes.
Diabetes Fashions for any occasion
When you go out on the town there's a bracelet to fit the activity. From diamonds to intricate two-tone stainless steel.