Handcrafted high quality designs customized by American artists

Why handmade fits better

Because you wear a medical bracelet 24/7, its got to be right. Every ID is custom handmade in the USA for a perfect comfort fit using our 
special size guide
.
Handmade in the USA

At Medical ID Fashions, all medical bracelets are custom sized and handcrafted in the good old USA where quality still stands for something!
By skilled artists

To make sure all bracelets fit correctly, skilled artists work day and night using our scientifically accurate sizing method. This exclusive
scientific sizing
is always correct when you provide an accurate skintight wrist measurement using a soft tape measure.
Customer Testimonials
Just read the comments by some of the many thousands of happy customers that have already discovered the virtues of a beautifully handmade medical bracelet.
See what customers said
The Mother of Invention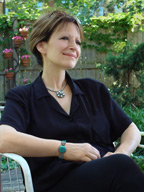 Our founder,
Abbe Sennett
is a cancer survivor, artist, jeweler and inventor who finally makes wearing a medical bracelet a pleasure instead of an embarrassment. It all came out of a "necessity" because stylish choices out there were from "slim to none".
Millions want a better medical alert bracelet
It's a good thing Abbe started making these stylish medical bracelets because today there are over 150 million Americans that must wear a medical bracelet to stay safe—and they no longer want to wear those ugly, stamped-out factory ID's from drugstores.
Overbuilt to Last
All medical bracelets are "overbuilt" for a longer lifetime and to keep you safe. We use proprietary methods and materials designed to give you a superior bracelet.
Perfectly custom sized

Every medical bracelet is custom handmade for each and every customer to their very personal wrist size. Read more
We contact every customer to confirm accurate sizing

Most customers are new to medical bracelets, so we always reach out to confirm that every order is correctly sized and every ID tag has all of your medical information presented in an effective format.
See Beginners Guide
.
Designer style for everyone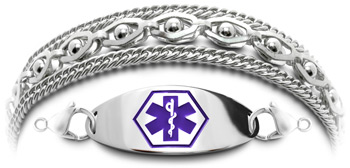 For women
, we've designed bracelets which include stainless steel, gold and silver, which makes wearing a medical bracelet more than just a fashion statement—it's also a lot of fun! See 
Satinless Steel,
See
Gold/Silver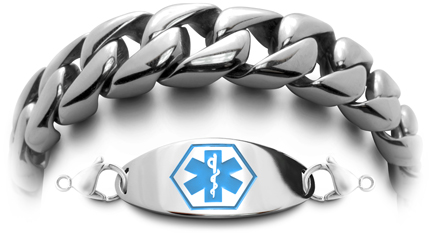 For men
, we've designed elegant bracelets because most men refuse to wear those prissy and boring bracelets. After all, you men deserve your happiness and world class protection too.
See Stainless Steel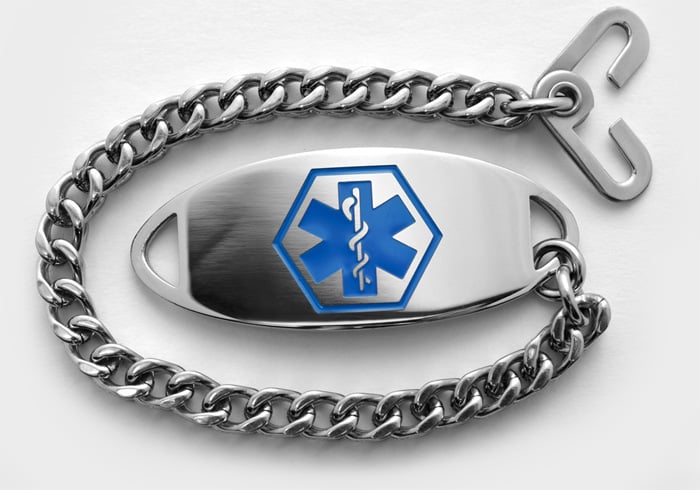 Unremovable medical bracelets
for people with
Alzheimer's/Dementia
 and
Autism
because too often they remove their bracelets leaving themselves unprotected.
     To help prevent easy removal, we use our exclusive "ALZ and AUT Design"—making these bracelets virtually unremovable—and
requires 2-hands to open.
See
Alzheimer's Sets
and
Autism Sets
.