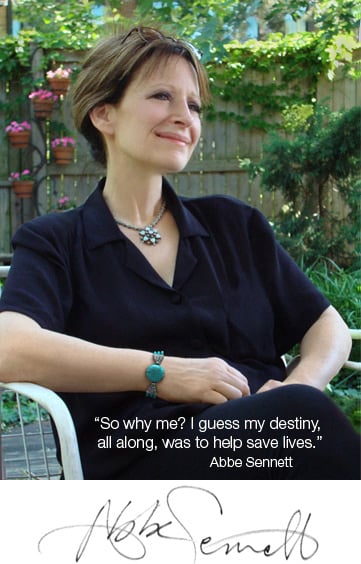 Famed artist and cancer survivor has a goal to save millions of Americans at risk that refuse to wear a medical ID bracelet.
Fifteen years ago, all of her dreams were nearly cut short when Abbe received the dreaded diagnosis...cancer! After 8 hours of grueling surgery...after 40 heavy radiation treatments...after eight long hospital stays...after many complications...one of which caused a serious heart  problem...and then given only 25% of surviving...Abbe is back and contributing to society and to medical organizations that helped save her life.
Concerned for 150 million Americans struggling with diabetes, heart disease, breast cancer, kidney failure, transplants, Alzheimer's, and all manner of conditions, including her own scary medical experiences—Abbe saw a critical need to protect people in medical emergencies. She saw too many people not wearing a medical ID bracelet only because drugstore bracelets are so ugly and draw too much attention to very personal illnesses.
Women were especially affected because styling was almost non-existent. That's why medical ID bracelets for women had to be something special. Not to be left out were millions of men that want something more rugged.
So Abbe handcrafted beautifully designed medical ID bracelets to keep people safe. But don't worry about the beautiful designs—paramedics are trained to look for any medical information, especially on the wrist—and they've been doing it for over 25 years!
It was soon apparent that most people are new and inexperienced and need extra help. To solve this, Abbe calls every customer, so every bracelet fits perfectly and all medical information is properly included.
What makes her womens medical ID bracelets so beautiful is inspired from a long and successful career as a renowned professional fine artist exhibiting in many shows and galleries in Chicago. Combine that with her worldwide recognition as a famed editorial and commercial illustrator for Fortune 500 companies and magazines such as Playboy, and then you'll see why her medical ID bracelets are so stylish...and so beautiful.