Get multiple color tags with one-sided engraving. For two-sided engraving, select PL-201 & PL-203.
Silver ID tags are medical grade stainless steel with the official universal "Star of Life" symbol mandated by U.S. DOT. Tag Sizes: Large 1 5/8" x 5/8", Small 1 1/2" x 3/8". For help see "Engraving Tips" and "ID Abbreviations". PL-2282 is available only from Designer Chain Sets.
To buy, click on "pull-down menu only". Do not click on tag images.

PL-100
Red $8.95

PL-103
Pink $8.95

PL-106
White $8.95

PL-108
Aqua $8.95

PL-109
Green $8.95

PL-110
Sand $8.95

PL-201
Lg/Silver $10.95

PL-203
Sm/Silver $8.95

PL-2282
Tag is Included $0.00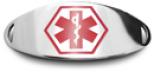 PL-300
Red Oval $8.95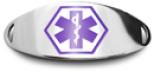 PL-302
Purple Oval $8.95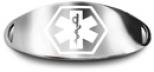 PL-306
White Oval $8.95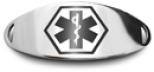 PL-304
Black Oval $8.95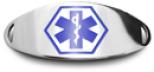 PL-307
Blue Oval $8.95