$99.00 Alzheimer's AirTag® Bracelet - Call to Order
Product is available by phone order only - 3 colors
• Medical bracelet with Blue AirTag® Holder
• AirTag® not included (purchased separately)
• Requires Apple® iOS 14.5 or later
• $99.00 USD and up by size. Shipping is extra.
• Hard to remove for safety
• For sizing help see "How to Size" or call: 1-847-638-2223
• How to Close the Unremovable Clasp
• Blue AirTag® 50777
Exclusive WaterWear Bracelets®
• Stainless Steel Chain: 3/8" wide X 1/8" thick
• Plastic Air Tag Holder: 2 7/16" x 1 11/16"
• Includes connecting hardware and one unremovable clasp
• Read what customers say
Unremovable clasp requires 2 hands to open. This plastic AirTag® Holder is attached to a surgical grade stainless steel chain. The AirTag bracelet has one unremovable clasp and chain which are attached to the AirTag® Holder making it hard to remove for safety. See photo above. Note: This product is never on sale.
How to install AirTag® (AirTag® is purchased separately)

Available ID Tags for this Bracelet
First "Add to Cart" this bracelet. Then select the ID tag from a drop-down menu.









*15% Off Fall Sale on non set bracelets - use code: "FALL". *Sale Excludes All Sets and $39 (base price) & under bracelets. Special Sales: priced as marked. Signup: E-Deals. 
Help: Regular or Unremovable Bracelets.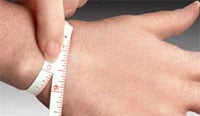 Measure Skintight below bone.
Don't add extra space. We add
Note: Unconfirmed wrist sizes add
to 2 wk delivery. Must reconfirm 
correct skintight wrist size after
placing order by email or call 
1-847-638-2223 (required)
Free plate and engraving:
no