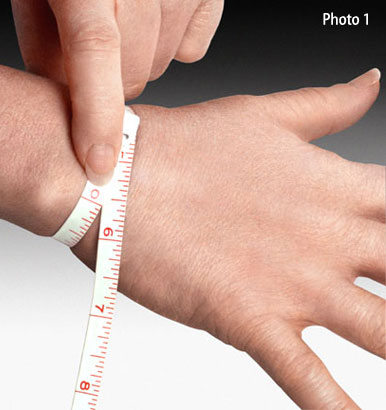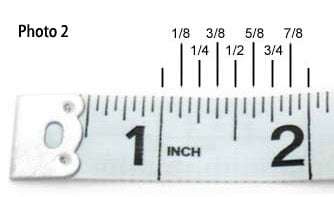 Select "Actual Wrist Size" to the closest 1/8" as shown here .
For example: 1-1/8". 1-1/4", 1 3/8", 1-1/2", 1-5/8", 1-3/4" and 1-7/8".
Correct Custom Sizing of Medical Bracelets.
Measure around the wrist between the wrist bone and hand. Use a soft, flexible tape measure. Do not use a metal tape measure. Measure the most narrow spot. DO NOT ADD EXTRA SPACE - WE ADD EXTRA SPACE to whatever size you give us. Make it skin tight, but not too tight or loose. If you make a mistake, it may cost extra to remake your bracelet. Because our medical bracelets are custom made to your specific wrist size, they cannot be returned or exchanged, but can be resized only in certain circumstances, and at additional cost. Allow 2 weeks for delivery.
We determine proper fit for comfort from your exact wrist size. All bracelets are checked on a professional sizing mandrel for correct fit. DO NOT use an old bracelet or watch as your guide. The ultimate length of your bracelet will be determined by the specific thickness of the beads and chain that you choose. A thick bead will produce a longer length than a thinner bead. The medical ID Tag will also pull up on the sides of the bracelet to add additional length. All of these issues are addressed with our scientifically accurate sizing system.
If you want the ID bracelet to be more snug or loose, write that information into the comment window: "Please make my bracelet a little looser". However, consider that 99.9% of our customers are happy with our special way of adding spacing for comfort. If you do request more or less spacing for comfort, we cannot guarantee that our interpretation will fulfill your exact expectations (see "Comfort Preferences" below). Input or select "fractions" of an inch to the closest 1/8" (See Photo 2 on top).
If you have swelling such as with Lymphedema, use the other unaffected arm for your bracelet. Otherwise, measure the affected arm when it is the most swollen. We can add extra jump rings to your plate so you can vary your size when you swell or not. If you need help, please call 847-638-2223.
Use a soft-flexible tape measure. On some tapes the measurement begins exactly at the beginning of the tape—the "0" or beginning point starts right at the edge. On this type of tape measure do not start from the one inch point. You must start at the very beginning of the tape measure. However, if you are using a pull-out tape measure that retracts into a plastic case, then most likely there is a "pull-out" leader of more than one inch before starting your measurement. DO NOT start from the beginning or leading edge of this type of tape measure. Start only from the "0" point.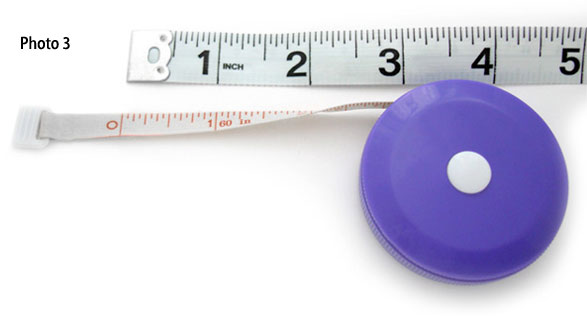 If you want to wear your medical bracelet on your arm above your wrist bone—you will be responsible for the fit. If you do not intend to wear it between the wrist bone and hand—then measure the location on the arm where the bracelet will be worn such as above your watch. Again, do not add extra space. Measure this area exactly. If you wish to wear your bracelet in this "non-standard location", then we cannot take responsibility for proper fit. In this case, you are determining your own sizing on an arbitrarily selected area of your arm. Because you may push the bracelet up or down, we are cannot guarantee proper fit in this situation. We also cannot guarantee that the bracelet will not slip over your watch, or will naturally not move down from your intended location.
When buying only a bracelet we need your plate length. If you only want to buy our medical bracelet, and connect it to your current medical ID plate, just measure the length of your current plate and put this information into the comment window: "My plate length is 1-1/2" or whatever it measures. Next measure your wrist and follow the same instructions as in the "Measuring Correctly" area above. Input this measurement into the "Actual Wrist Measurement" area. Again, be very accurate! No extra space, please.
Measuring without a tape measure. If you don't have a tape measure, use a non-stretchy "THIN" string, long strip of 1/4" wide paper, or gift wrap ribbon. Take this string, paper or ribbon and wrap it around the wrist between the wrist bone and in the narrowest area (assuming this is where it will be worn). Cut the string, paper or ribbon EXACTLY where it meets. Measure this on a straight ruler and then input this into the "wrist Measurement" area. NOTE: Do Not use a thick or stretchy string, cord or rope.
Comfort preferences. When we attempt to make a bracelet that is "slightly looser or tighter" per any additional comments—we cannot guarantee that our interpretation will fulfill your expectations. We want all of our customers to be happy with their final bracelet sizing. We will do our best to provide a "wearable" bracelet that feels as comfortable as possible.
Resizing and return policy. All of our medical bracelets are custom made to fit your exact, correctly measured wrist size. As a result, in most cases, they cannot be returned or exchanged. However, under certain conditions, they can be resized at additional cost. Note: chain bracelets cannot be enlarged once cut — they can only be made shorter. If a chain bracelet needs to be remade larger, the customer must pay at least half of the original cost, plus shipping. All bracelets to be resized must be reviewed at our facility before any action is taken. Please read the "Terms & Conditions" at bottom of this page.
Wrong Size. If a bracelet is determined by us to be "unwearable" because we mistakenly made it shorter than your "Actual Wrist Measurement", or the bracelet exceeds your actual, stated wrist size beyond our normal "one finger width" space, that we allow for comfort, as determined by our official "professional sizing mandrel"—then it will be corrected and shipped back at no charge. If we determine that the sizing error was made by the customer, then there will be a minimum $10.00 resize charge, plus shipping costs.
Damaged bracelets. Bracelets that have been damaged in accidents or abused by abnormally rough wear cannot be replaced or refunded as determined by our review once we have received the bracelet. Any medical bracelet that we have determined to have been subjected to accidents and abnormal wear, will not be covered under our "Six Month Warranty". Any action, replacement and repair will be at our discretion.