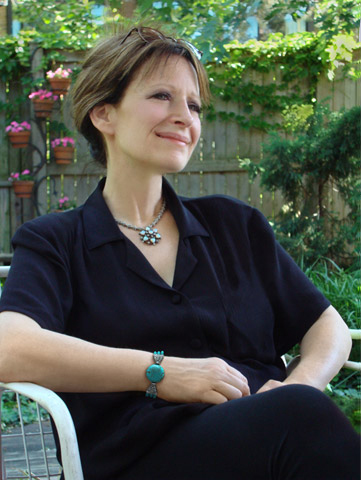 A well-known Artist and cancer survivor...
                              creates a new world of jewelry design.
Fourteen years ago, all of her dreams and aspirations were nearly cut short when Abbe received the dreaded diagnosis... Cancer! After 8 hours of grueling surgery... after 40 heavy radiation treatments... after eight long hospital stays... and multiple complications... one of which resulted in a heart problem... Abbe is back and contributing to society.
Having been inspired by patients struggling with diabetes, heart disease, lymphedema, Alzheimer's, kidney failure, transplants and her own scary medical experiences by not wearing a medical bracelet – Abbe saw a critical need to protect yourself in emergencies. She also saw too many people refusing to wear a life saving medical ID bracelet because it was considered ugly, and draws too much attention their medical condition.
To overcome this problem, Abbe created fashionable medical ID bracelets that help hide their true purpose—all the while keeping people safe because paramedics are trained to look for any medical information. And making beautiful medical ID bracelets that are perfectly sized and correctly communicating your medical information is her all consuming passion.
This passion is also reflected in providing personalized, compassionate service to people just like herself. This simpatico makes Medical ID Fashions do things in ways no one else can.
Today, doctors are calling Abbe, expressing their thanks because patients are actually starting to wear what they should have been wearing all along.
The artist behind these beautiful bracelets comes from a long and successful career as a renowned Professional Fine Artist exhibiting in many shows and galleries in Chicago. With countless private commissions for Paintings and Monoprints, she brings an incredible eye for an elegant, tasteful beauty... and the unexpected. Add to this her strong worldwide recognition for creating thousands of Commercial Illustrations for Fortune 500 companies, and editorial illustrations for magazines such as Playboy.... Abbe Sennett delivers jewelry designs artfully created with an inspired vision.